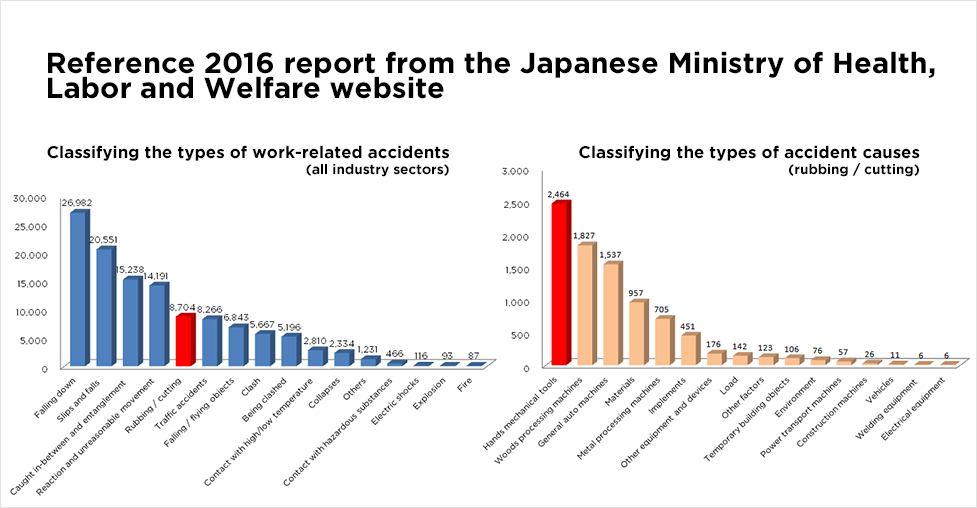 Japanese Ministry of Health, Labour and Welfare reported that the injured due to rubbing or cutting is the fifth most common accident type in all of occupational accidents.
It is said that the actual number of cut/laceration injuries will become much larger if includes unreported small injuries. The breakdown of the number of the injured due to rubbing or cutting shows that hands mechanical tools, woods processing machines, and general auto machines consist of 70% of the total incident.
When handling mechanical tools by hands it is most likely to occur rubbing or cutting. This is a case of Japan but many other countries should also have a risk of injuries due to cuts/lacerations in the working place.
And the other country report may show similar figures.
SHOWA offers a wide range of cut resistant hand protections.
How to reduce cut injuries
Most importantly pay enough attention when handling mechanical tools or materials.
Tidy up and Keep working environment clean and make an enough place where nothing interferes workers' movement.
Reduce naked areas where are exposure to risks.
At least wearing something can protect direct contact to sharp edges.
Wear adequate protections of clothes, shoes, and gloves.
Choosing protections made of cut resistant materials is the effective way to avoid unpredictable cut risks.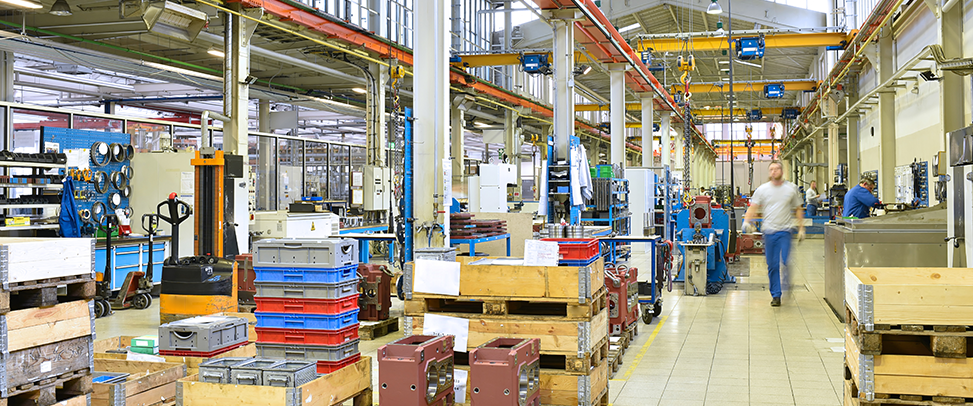 For precision and fine work which
requires dust contamination control from gloves.
We have enough experiences of offering low lint hand protections which are designed to provide fingers' dexterity.
Suitable for assembling automotive, machinery and electronics components, and inspection tasks.

Showa is offering a wide range of low lint gloves with cut resistant feature which effectively protects workers'hands against unpredictable cut by sharp edges of parts or burrs.
For dealing with oils.
When workers handle oil-covered parts, they need to protect their hands from oil penetration.
And if there is a possibility that their hands soak into oil, they should guard their entire hands from oil.
It is important that wearing oil resistant gloves is only to protect hands from oil and not to protect hands from cut by sharp edges or burrs of oil-covered parts.

Showa offers adequate gloves with both oil resistant and cut resistant features.
S-TEX 376
For carrying something sharp.
Workers need to hold a component such as a glass and metal plates by their edges when carrying them in order to avoid dropping objects.
Worker's hand slip may cause hand injury by their edges.
In order to avoid dropping objects and hand slipping, the glove is required both anti slip performance and cut resistant feature.

High grip performance requires due to prevent rubbing by edges.
For considering transcription of eluates
from the resin surface of gloves.
Strictly controlled working environment, for instance, in glass manufacturing the product which has any transcription of eluted impurities on the surface would be rejected as defect.

In order to meet such a high level of users' demands we offer cut resistant hand protections with anti-transcription feature.
For handling knife, blade, or cutter etc.
Especially cutters are widely used, for example picking process in warehousing, interior works in construction etc.
Cutter is a very convenience tool but workers might have hand cut if they use it wrongly. Hands slipping may cause misusing.
Please check whether or not gloves have feature of sensibility, tactility and high grip performance before using.
Importantly just wearing normal gloves cannot prevent from cut, so it is needed to choose adequate gloves which should have enough cut resistant feature if you would like to reduce cut injury risks.

Showa offers adequate gloves with both oil resistant and cut resistant features.
S-TEX 376
As Inner protections of disposable gloves.
Disposable gloves may be widely used in food processing or marine product processing industries.
Note disposable glove is easily to be teared/cut by the sharp edge because of its ultra thin feature.

Showa offers adequate gloves with both oil resistant and cut resistant features.
No.542X

No.521